Corydalis
To get this flower bulbs for free.
Click Here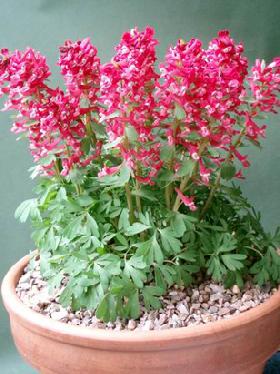 Corydalis is an annual herbaceous plant belonging to the Papaveraceae family of the genus Corydalis. The genus corydalis is derived from the Greek word Korydalis meaning crested lark/crowned lark. It is a bulbous plant having more than 470 species, it's a hermaphrodite plant.This plant is native to the temperate Northern Hemisphere, Zhejiang in China and the high mountains of tropical eastern Africa. It is also commonly said that the plant is indigenous to the northern parts of China, Japan and Siberia. Corydalis is most commonly found in the China with around 357 species and is also common in the Himalayas. The tuber consists of a chemical called alkaloid bulbocapnine which is used by the bio-chemist in preparation of some medicine.
The following are some of the species of corydalis:
· Corydalis aurea
· Corydalis buschii
· Ferny Corydalis
· Corydalis chelidoniifolia
· Coridalis ambigua
· Corydalis bracteata
· Corydalis flavula
· Corydalis flexuosa
· Corydalis heterocarpa
· Corydalis integra
· Corydalis wilsonii
· Corydalis micrantha
· Corydalis nobilis
· Corydalis pallida
· Corydalis rutifolia
Description:

Cordalis belongs to the poppy family. It grows finely attached to the ground and has a finely divided leaves with pinkish flowers. This perennial plant grows along the shade in the wilderness. The tuber or rhizome of corydalis is collected and dried during the spring and fall, before and after the leaves have fully grown. They are kept in moist free environment. Corydalis can be used in the form of tea, tincture or in the form decoction. The herbaceous plant corydalis is used around the world to relieve pain. Traditional Chinese medical specialist has classified the root or tuber of corydalis as the blood vitalizer to relief pain. It is the second most pain reliever.
Flower:

Cordalis has colorful flower that attracts the eye of the passer-by. It stands on a delicate foliage, it is a long lasting flower for it stays fresh from spring to frost. The flower has the resemblance of bleeding heart. The flowers when planted in sideways acts as the garden border plus acts as the garden decoration. Due to the fast spreading nature of the plant, it makes the perfect ground cover.
Propagation: It is possible to propagate cordalis from its matured seed during the right season. It is mostly planted during the fall, it grows best during the spring and summer. It grows best when kept in a refrigerator for six to eight week in a air tight container. It is important to sow the seed on the surface of the soil and the soil must be kept humid in 15˚C to 18˚C. It is suggested to use liquid fertilizer during the growing month. Transplanting the plant is possible when the plant has lots of healthy leaves.
Since there are many species of corydalis some grow from tuber while others grow from rhizomes.
Care: Cordalis grow well in full sun to partial shade to moist soil. It needs to be planted in well-drained soil with neutral or alkaline pH soil as well. Water the plant well in order to moisten the soil plus add compost manure or light organic fertilizer before the buds are fully grown. This plant fails to grow where the weather is too cold or too hot; it requires temperate temperature.
Uses: Corydalis species have a lot of uses. The tuberous rhizome is the most useful part of this plant. Some of them are listed below:
· Ecologically corydalis species are used as food plants by the larvae of some butterflies belonging especially to genus Mnemosyne.
· Medical uses of different species of corydalis:
Corydalis yanhusuo = Chinese herbal medicine to relieve any kinds of pain
C. gariana = Indian herbal medicine
Corydalis cava = European herbal medicine
· C. yanhusuo has a pungent and bitter taste that is used in the treatment of heart, liver and spleen. This plant is also used to relieve chest pains, joint pain, abdominal pain and also in treatment of menstrual cramps.
· Corydalis helps in subsiding pain (pain killer) caused by traumatic injuries.
· Medical specialist has discovered that C.yanhusuo helps in proper circulation of blood and also helps to promote vital energy.
· The plant helps in lowering blood pressure.
· Psychologists use this as a medicine in treatment of mild form of depression.
· Medicine made from the root of corydalis has recently been used in the Western as well as in the Asian countries in treating fibromyalgia.
· The plant is also used in treating nervousness, sleeplessness and restless leg syndrome.
Note/caution:
Corydalis contains strong compound that depresses the central nervous system and it is best to avoid using this herb by the breast feeding mothers. It is suggested by the health specialist, not to suggest the use of corydalis for the pregnant women. Using corydalis during the time of pregnancy may lead to period, uterus contraction and may lead to miscarriage.
Unlike some other herbs, this herb should not be taken on ones own will, health specialist's supervision is a must to avoid all kinds of danger or side effects. The plant is used for significant pain but not for the mere pain or fever.
Side effects:
Serious side effects by the use corydalis have not been spotted by the health specialists but overdose of this herb causes body shaking, spasms and muscle tremors.
Quick facts:
Light: The plant requires full, partial sun/shade
Type: It is a perennial bulbous plant.
Height: It grows from 1 to 3 feet tall.
Width: Corydalis mostly grow 12 to 13 inches wide.
Growth pace: It has moderate pace.
Moisture: It grows in dry to medium moist.
Characteristics: It has self seed, showy flowers and showy leaves.
Uses: It is used as beds, borders, ground covers and neutralizing.
Flower: Corydalis are mostly found in blue, pink and white color.
Foliage color: The plant is grown with blue/green/gold/chartreuse.
Seasonal features: Fall bloom, summer bloom and spring bloom are the seasonal features of this plant.
Special features: The plant attracts birds, it has good fragrance, good for containers and has low maintenance.
Click Here

to get this flower bulbs for free.